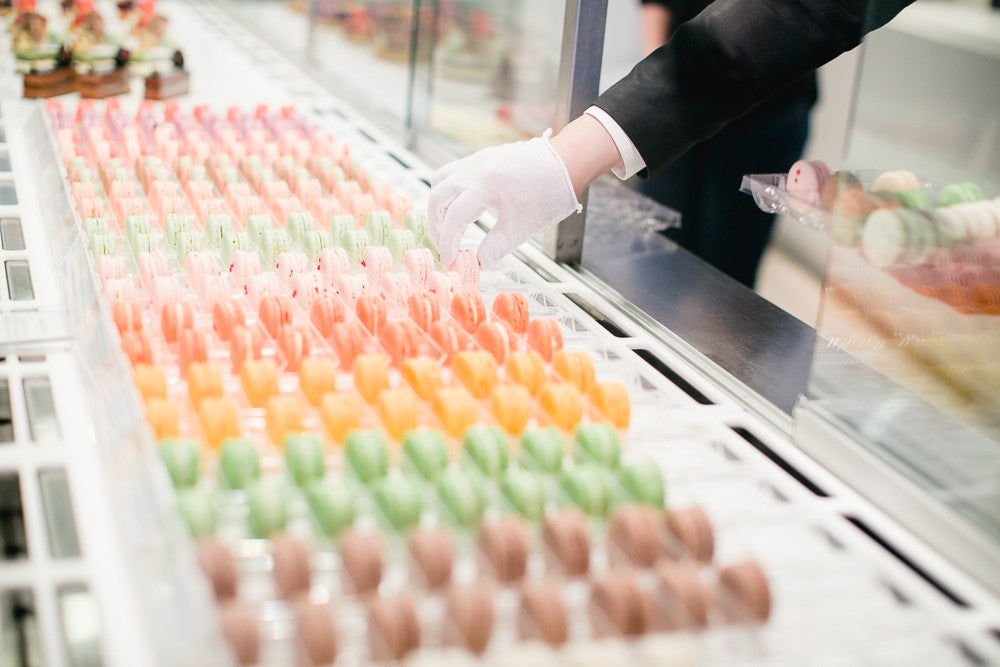 Author: Sonya Davidson
Original Post: Click Here
Ah, l'amour! Paris is known as the city of love. One day we were strolling along the Champs-Elysees taking in the tree lined avenue and all its offerings tripping over the Louis Vuitton store enroute to the famous Laduree Tea Salon…this is where I fell in love. With macarons.
Laduree is the mecca of the macaron to fans worldwide. If we were to splurge on anything on this trip we knew it would be to experience this salon and bringing home some delectable macarons. On a perfect Saturday, we were seated upstairs next to a perfectly groomed French family. We, being travellers, in our distinguishable North America kicks (mind you, a collaboration with a designer but I don't think anyone would know)  seated right in the centre of the room. I mean, if you do that in Toronto, you could get shuffled off into a corner to sit facing the wall at a "D-list" table at fine establishments. Anyway, the family consisting of mom, dad and three young children…all well-dressed and sitting quietly waiting for their food and having a civilized conversation. Not one of them had a video game or a phone device in hand; no one screaming; and no chicken nuggets in sight. Anyway, it was a beautiful brunch and we bought our coveted macarons.
So, what exactly is a MACARON? France lays territorial claims to the macaron that was originally created by monks. In the 1930s, Laduree offered it to the fine society madams in their Tea Salon. The macaron is notoriously famous for being very complicated to make and is considered an art form. It is made of two round airy meringue-like shells and held together with a sweet filling. It's usually a little bigger than a Toonie in size. Definitely not something you inhale but meant to be savoured and enjoyed.  Okay, I admit to just having two sea salt caramel macarons with my coffee for breakfast just now.
But please do NOT call it a "cookie" or a "macarooooon"! A "macaroon" is a coconut based clump  that is nothing like a macaron (yes…use your best French accent) !
There is quite a cult following around the world and websites dedicated to this treat. The pastry chefs are equally as passionate as the followers. Pastry Chef Tina Su, of Butter Avenue was trained at Le Cordon Bleu Ottawa and graduated with Diplome de Patisserie  where she perfected her macarons. She's been selling hers online for a year to fans before opening up her first shop in Toronto. Recently Butter Avenue opened a second location in what is considered the current "foodie heaven row" on  Queen Street just west of  Spadina.
Why are we obsessed? Just like many of our friends, macarons brings us back to our amazing experience in Paris and it's a little indulgence on any given day that won't break the bank. I'm constantly seeking out great new flavours and introducing friends to this delicious little pastry.
Now is it a pastry or a cookie?
Source: AZNmodern.com
http://aznmodern.com/2014/11/17/macaron-vs-macaroons/